We are delighted with our SIAMs Report, which judges our school as outstanding in all areas and has no areas for improvement! Well done to all our children, staff, parents and governors for making our school an outstanding place to learn!
Please click on the document below to see the full report. Here is a flavour of what our full report says:
'The love, care and security associated with Christian values enable the children to excel in academic achievement and in their own overall development. The impact of this is seen in exceptionally high results in all pupils'.
'School places great emphasis on Christian values where staff and children respect each other and are nurtured to reach their full potential'.
'All the teachers know the children well, as a family.'
'Children's behaviour is excellent and they are developing into well rounded individuals in their care of each other'
'Parents speak highly of the school's pastoral and inclusive care of all pupils which is the result of the staff's commitment to the Christian ethos'
Religious Education at Howick
Intent
Through a reflective and progressive curriculum we aim to excite, promote enquiry and embed knowledge. In RE we want our learners to be excited by their learning journey. We want them to question and have awe and wonder; whilst being aware that we may not always have the answers in RE. Our learners will build on their existing knowledge, making links and developing their understanding and knowledge.
We endeavour to motivate our learners and equip them with the skills to be confident, independent and resilient.
Children of different faiths should feel involved, happy and confident to contribute to all areas of RE and our teachers ensure that when teaching RE, the content and delivery is appropriate and relevant for all learners. Children are encouraged to share and celebrate their faith and beliefs and the environment for this is safe and welcoming.
Our Christian values underpin our efforts and achievements and we are inspired in our mission by our faith that "I can do all this through him who gives me strength" (Phillippians 4:13)
Curriculum
At Howick, we follow the Blackburn Diocese Questful R.E. scheme of work. The curriculum content is a balance of the three essential disciplines of quality RE, Theology, Philosophy and Social Science. This means our pupils will look at concepts through a theological lens, exploring what people of faith believe. Alongside this they will explore questions and answers raised in relation to the lived reality and impact of religion and world views on peoples lives. They will also think like philosophers, and be equipped with the skills that will enable them to make sense of life's experiences.
Through our this approach, our children will experience, explore and encounter a wide range of creative and challenging multi-sensory activities that will help them to discover the answers to fundamental questions such as these: –
Who am I and what does it mean to be me?

In what ways do/can I relate to others?

How/where can I encounter God?

How can I make a positive contribution to the world in which I live?

What values, attitudes, beliefs and behaviour are important to me?

What does it mean to have faith?

Who/what influences and inspires me?
| Name | |
| --- | --- |
| Howick Church of England Primary School Progression of outcomes and expectations.pdf | Download |
Showing 1-1 of 1
Spirituality
"the sense making activity that both children and adults necessarily carry out as a result of the life experiences they encounter" Clive Erricker
"delighting in all things, being absorbed in the present moment, not too attached to 'self' and eager to explore boundaries of 'beyond' and other, searching for meaning, discovering purpose, open to more' Rabbi Hugo Gryn
At Howick we believe that spirituality is something that touches us all. It is a connection to something that is bigger than ourselves. It is about awe and wonder, asking ultimate questions and being inspired to look beyond ourselves and serve and care for others and nature.
Our pupils' spiritual development is shown by their:
• Beliefs, religious or otherwise, which inform their perspective on life and their interest in and respect for different people's feeling and values
• Sense of enjoyment and fascination in learning about themselves, others and the world around them, including the intangible
• Use of imagination and creativity in their learning
• Willingness to reflect on their experiences.
Aims
The Individual (Self)
To develop self-awareness, confidence, sense of worth, an understanding and application of personal values and beliefs, the ability to handle feelings and personal creativity .
Relationship to Others
To develop openness and awareness to differences, empathy and the individual's awareness of their place within the wider group and community.
Relationship to the World & Universe
To develop a sense of wonder and awe, appreciation of the beauty and variety of nature and our inheritance through various cultures.
The Exploration of Ultimate Questions
To develop an awareness and ability to explore issues around questions of life and death.
Building Blocks of Spiritual Development
The "building blocks" of Spiritual Development are:
Self-Awareness or Self Knowledge. All humans need to be aware of, and acknowledge, their own inner life of thoughts, feelings and emotions. What does it mean to be human? This is an important part of developing self-respect, a sense of identity and self-worth. In turn, this enables us to value and respect others. Our children will be given a range of opportunities to reflect upon and discuss their beliefs, feelings and responses to personal experiences.
Forming Relationships. An important part of personal growth is being able to develop relationships with others, recognising them as people of worth and value. This includes developing a sense of community and building social relationships. Our children will be given the opportunity to develop an understanding of both their individual and group identity and to form and maintain worthwhile and satisfying relationships.
Asking Ultimate Questions. This is the search for meaning and purpose in life. It involves asking questions such as "Why me?" in times of suffering, or "What happens when you die?" The youngest children often ask the most profound questions of this type, and deserve to be taken seriously when they do so. We believe that it is important that this area of reflection and challenge is encouraged, not stifled. Ultimate questions are not limited only to RE and collective worship, but can arise at any time.
Uncertainty, Awe and Wonder. Our children will be given opportunities to reflect on, consider and celebrate the wonders and mysteries of life and to experience moments of stillness and reflection, for example in Collective Worship.
Beliefs and Values. This is the search for, and development of, personal beliefs and values which may or may not be shared with other members of the community.
Creativity. This is the exercising of the imagination or intuition and insight so as to express one's innermost thoughts and feelings, especially through the creative arts. Creative work can be an important tool for exploring some of the other areas of spiritual development, including the Music, Art and opportunities beyond the traditional classroom setting.
Feelings and Emotions. The sense of being moved by kindness or beauty, or being hurt by hatred and injustice. This should bring a growing awareness of when it is important to control feelings and emotions. Our children are able to foster their emotional life and express their feelings in the community of our school, knowing themselves to be accepted and loved as unique individuals.
Victory
In Class 4 the children have been exploring Jesus' victory over death.
They used the work of famous artists to inspire their own art work.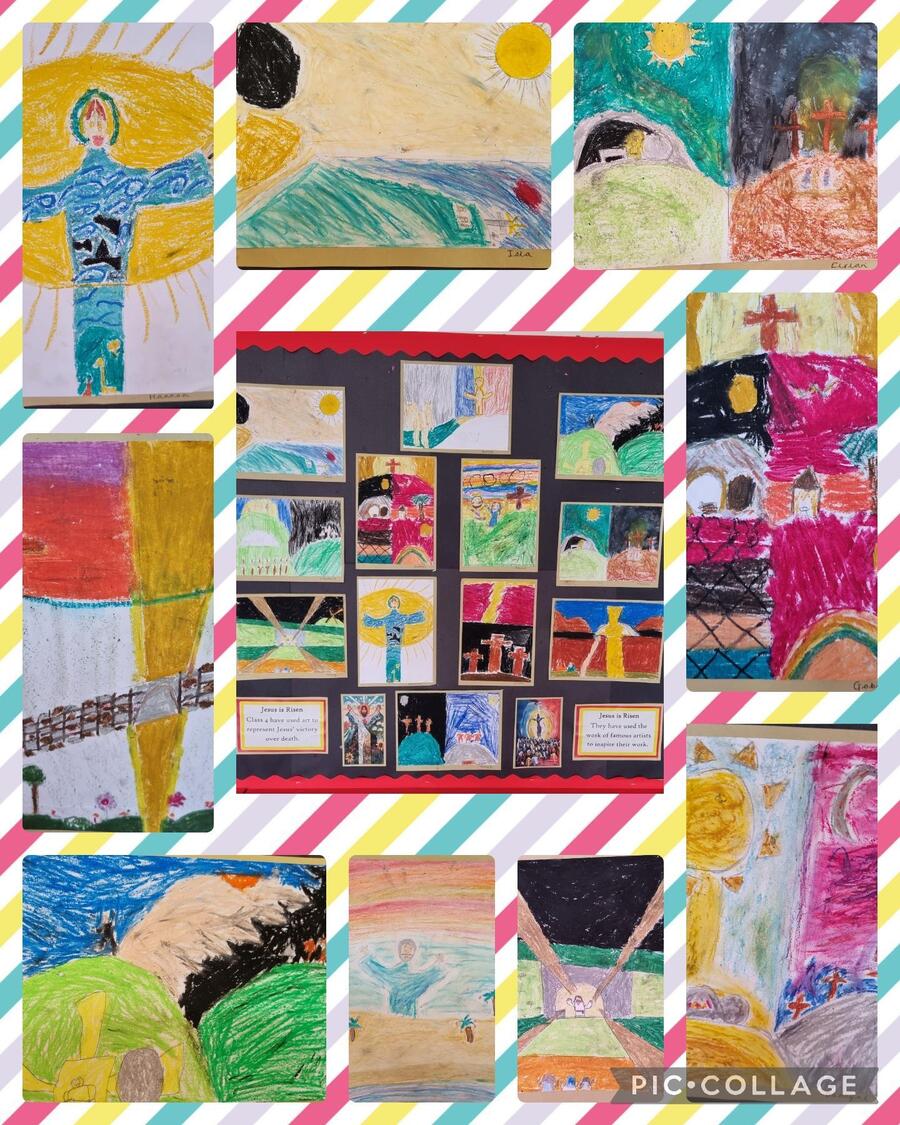 Daniel
As part of our Daniel topic, Class 4 have created these letters which will be sent to the Open Doors Charity, They have learnt about persecuted Christians, looking at the similarities between their lives and that of Daniels.
The children have used extracts from the Bible, along with our theologically based vision statement to send hope to these people.
Class 4 have also studied art work which has been created to show the events of Daniel 3. They have used this to inspire their own art work.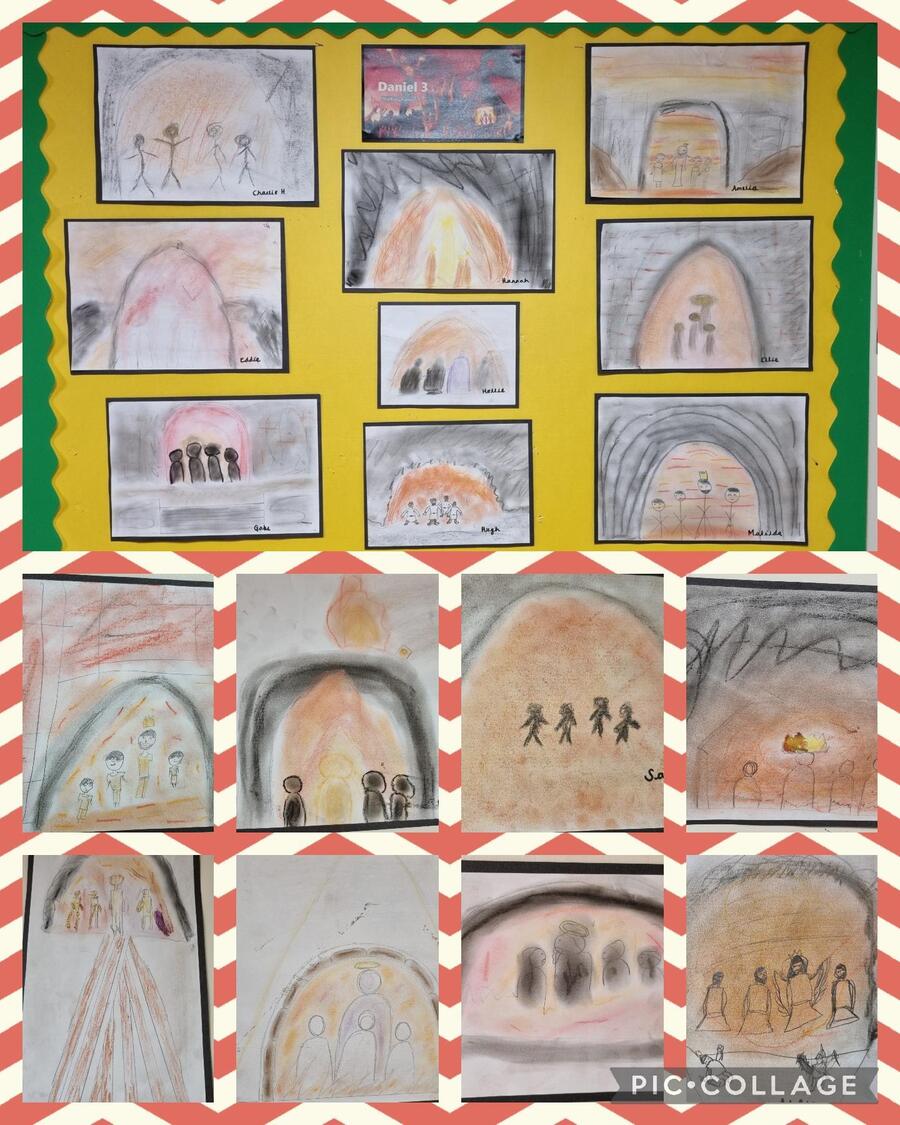 Experiencing prayer
Class 3 have been looking at different ways that people can pray and have set up several stations in their classroom to experience each one. The stations included; a quiet meditation area, planting a poppy to remember someone who has impacted their life, a bottle of tears to share their worries or sadness with God, an area to draw their prayers and finally a prayer wall. The prayer wall, which is based on the wailing wall in Jerusalem, was a firm favourite and is becoming a permanent feature in their room.
Visit to St Mary's Church
Class 2 have visited St Mary's Church in Penwortham to find out about all the special things inside and Rev. Nelson also told the children about the history of our local church. Before going back to school, the children wrote prayers linked to our value for this half-term, Thankfulness, and left them in Church for people to read.
El-Salvador Crosses
To celebrate Easter in Class 2, the children have made their own El-Salvador Crosses containing pictures that remind them of Easter time. They also looked at the story of Palm Sunday and decorated an Easter biscuit. Happy Easter everyone!
Class 4 have been reflecting on the events of Holy Week.
'Crosses of Hope'