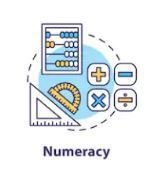 Parent Workshop 14th January 2021
Thank you to all our parents who attended the Zoom Maths Workshop. I hope it gave you all the information you needed to be able to support your child with Maths at home and of the expectations in each year group. Below is a copy of the presentation and our calculations policies are located on the policies section of our website.
Maths Week 2020
At Howick we want our children to be confident Mathematicians. Throughout our Maths Week we provided our pupils with the skills and developed their growth mindset so they felt confident to have a go and persevere. We hope that you enjoy having a look at what we have been up to.
After evaluating the results of our parent survey, we have decided to put on a Maths Parent Workshop. This will take place via Zoom on Thursday 14th January. Further details will be sent out via Seesaw nearer the time.
Support with Calculations
Please visit our policies page by clicking this link to view our calculations policies. These are useful guides for parents supporting their children at home.