Equality
Our Equality Objectives
As a school we welcome our duties under the Equality Act 2010
The general duties are to:
eliminate unlawful discrimination, harassment and victimisation
advance equality of opportunity
foster good relations
We understand the principle of the Act and the work needed to ensure that those with protected characteristics are not discriminated against and are given equality of opportunity.
We are working towards achieving the Lancashire Equality Badge, focusing this year on Race Equality and Religion and Belief. Our overall objective is;
Objective

Which group(s) with protected characteristics will this benefit?

Actions and who will be involved?

Timescale

Which general duty/ies will it address?

How will we measure our success?

To promote cultural development and understanding through a rich range of experience both in and beyond school.

Disability

Gender

Race

Religion or belief

Sexual orientation

Gender reassignment

Programme of visits to include places of worship

Pragramme of visitors organised to share different faiths and cultures

Enrichment calendar to learn about religious festivals

2021-2022

Eliminate unlawful discrimination, harassment and victimisation and other conduct prohibited by the act.

Pupils in school will have a wider experience of a divergent society.

Children understand that they are part of a multi faith society and learn the values of other religions.
Black History Month October 2021
Thank you to Mrs Oldham for leading our Collective Worship and talking about Black History Month.
All our classes will be taking part in planned activities during the next few weeks.
Class 2 - Martin Luther King
Class 2 have looked at the life of Martin Luther King. They discussed how people with different skin colours had to go to different schools and were not allowed on buses etc together. They then made these equality cards with a partner. The children had to use a different colours of paint to their partner to make two hand prints on their cards, so show that we are all different but that we love and respect each other.
Kreative Productions - Breaking Down Barriers Workshops
An amazing day for all our children taking part in workshops designed to break down cultural barriers and build bridges.
Class 4 - Harriet Tubman
The children have found out about Harriet Tubman and the underground railroad. They then made patches to make a class freedom quilt.
Class 3 Black History Month
The children have looked at Ruby Bridges, linking this into looking at schooling as part of their current history topic. They talked about her story, it's significance, how she would have felt and her legacy. The children linked this to our school values.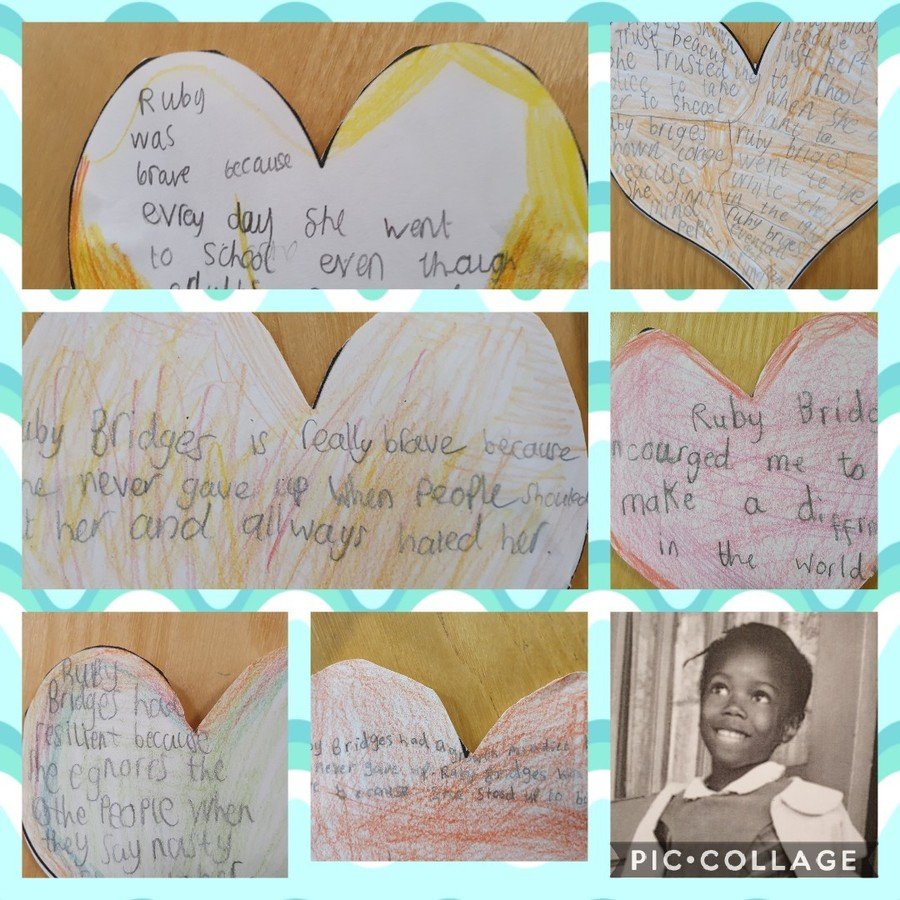 Diwali November 2021
Once again at Howick we have had a Diwali week, learning about the festival. We started our work with a focused whole school collective worship and then completed lots of different activities in school. Our whole school working wall in the hall is being used to document our learning.
Holi Featival

Class 1 enjoyed learning all about Holi and experienced their very own Festival of Colours!
Class 4 Heartstone Odyssey Book Festival
The children in Class 4 have all taken part in the project this year. Centred on Heartstone's fictional story, The Heartstone Odyssey, the project has:
promoted understanding of different nationalities, cultures & backgrounds

challenged prejudice, intolerance and explored hate crimes

developed literacy, communication and critical thinking skills