Class 1 - Reception
Miss Hardiman and Mrs Morris are looking forward to a fantastic year of learning with our Reception Class.
Our Learning Intentions - Autumn
Our classroom is all set and ready to welcome our new members of the Howick family.
There are also lots of changes taking place outside - we can't wait to use our new areas.
This half term we focus on the values of friendship and creativity. We have been exploring our values in many ways. Here are a couple of pictures of our fabulous learning so far!
Ways to Support Learning at Home
There are lots of fabulous ways that you can continue your learning at home! I have attached a couple of links to fantastic websites and activity ideas.
Phonics: There are lots f ways that you can support phonics learning at home. I have attached a PDF document below with lots of suggested activities. Additionally you might like to watch Alphablocks at home (https://www.youtube.com/watch?v=s7LjGDcXqcs).
Mathematics: Top Marks offer fantastic games for children to practice their mathematic skills! Remember to check that the games are age and ability appropriate (https://www.topmarks.co.uk/Search.aspx?Subject=16&AgeGroup=1). You might also enjoy watching Numberblocks which is a firm favourite in Class 1 (https://www.youtube.com/watch?v=euhbE8aMfC0).
Information for Parents: Guides and Information
Christmas Activities in Class 1
We have had lots of fun getting ready for Christmas in Class 1! Have a look at our Christmas activities here.
Hope
In Class 1 we are thinking about our Christian Value of 'Hope'.
We read the story of Noah's Ark and wrote our own messages of hope.
Maths week! 9th - 13th November
Class 1 have been having fun in Maths Week!
We did lots of counting and number work inside and outside. We also enjoyed making paths and maps using positional language and spatial awareness.
Divali
We have been finding out about the Hindu Festival of Divali. We made some Divali lamps using Rangoli patterns.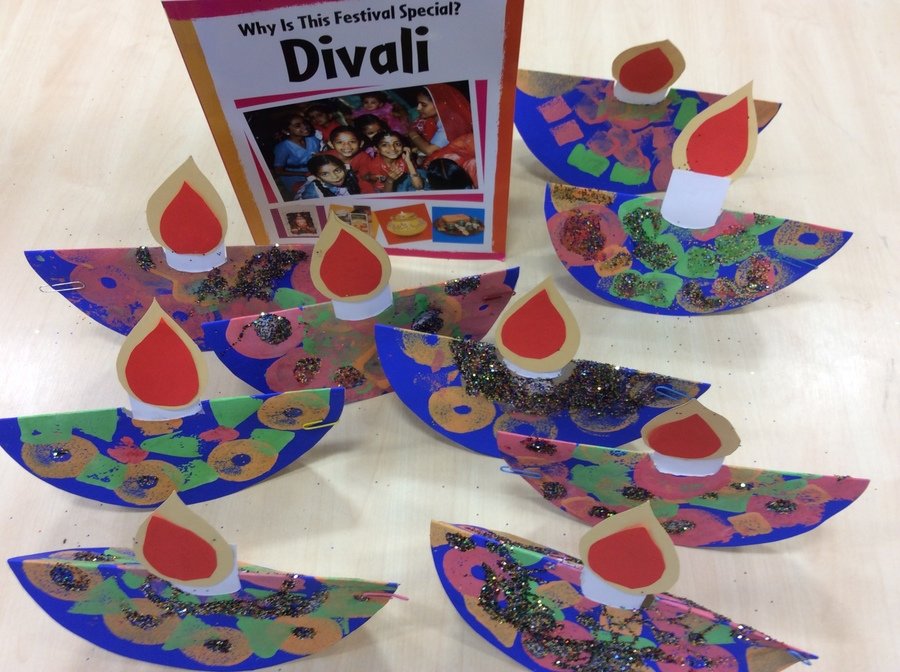 Latest Class newsletter for Autumn 2 available here!
Autumn 2 People Who Help Us
This half term we are finding out about People Who Help Us. This week we have been reading the story 'Burglar Bill' by Janet and Allan Ahlberg. We are also finding out about the Police and how they help people. We have a Police Station in our classroom and have been having fun solving crimes!
Finding out about our senses
This week we are learning about our senses.
Ordering numbers in Maths this week!
Gruffalo
This week in Class 1 we are reading the 'Gruffalo' story. We have a 'Gruffalo cafe' in our classroom and have been doing some Gruffalo maths!
Gruffalo P.E.
We are busy using our skills to pretend that we are the different animals from the Gruffalo Story.
Amazing, physical development and lots of fun!
Maths Outdoors
This week we are reading "Stickman". We have had lots of fun collecting sticks in our outdoor area and then ordering them according to size.
See here for the latest news and information from Class 1!
Friday 25th September - Your child's first reading book is coming home! See the letter below for details.
Class 1 Curriculum for Autumn 2020
See the document below to find out what we'll be doing this term in Class 1!

In Class 1 the children will be learning to read and write using a Phonics programme called 'Letters and Sounds'. Here are some helpful websites and online games to help parents with early reading and phonics at home.
https://www.oxfordowl.co.uk/for-home/advice-for-parents/learning-at-home-videos/parent-how-to-videos/how-to-help-with-phonics-videos/
https://www.phonicsplay.co.uk/
https://www.ictgames.com/mobilePage/literacy.html